I was soo happy when I got my mail the other day and I got a cute little package in the mail! It was from one of
my friends, Ashli
!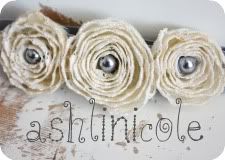 I have been obsessing over
her shop
basically every day since I found it. She has some really beautiful vintage-y looking headbands, earrings, and bows. Some that I honestly hadn't seen a ton of in the blog land. So, that's why I like her so much!
here is me in her 'ivory lace rosettes'
it was wrapped up soo cute!
I am freakishly in love with headbands, especially these stretchy ones because they don't hurt my head, and they look adorable in a pony tail! I love the colors she chose! Cream, and a bluish gray. So classy.
a-dora-ble in my blonde hair.
Ashli is spiritual, crafty, funny, adorable, and has great style! Sometimes I wish I could just be friends in real life, like hang out every day kind of friends.
See those earrings? I'm going to buy them. I LOVE stud earrings, and these would be cute with sooo many outfits... And, they are inexpensive too!
Her shop
is definitely affordable. (That's another thing I love!)
Here is a pink and creme variation of my cute cute headband. I promise you, it stays in your hair good too, because when I put it in, it didn't slide up, and I wore it all day.
Let's give Ashli some love and support. She just recently started up
her shop
, and has been working so hard to make some really beautiful things! I really appreciate her for sponsoring my blog. She's kinda a big deal. Plus,
she blogs!
(we all blog stalk sometimes, so go stalk hers for a little while and leave a comment)
I feel so lucky to have been sent something in the mail- I LOVE getting mail. Cards, gifts, a note, anything! It definitely made my day to open her cute package. Thanks again Ashli, and everyone else, go check out her shop! You won't regret it. Vday is coming, drop some hints to your hubby! :)